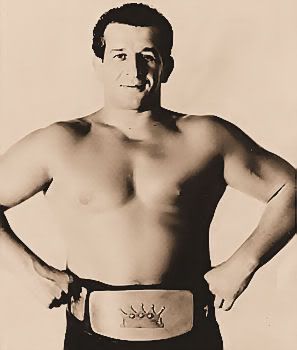 One wrestler that passed through the Dallas territory before becoming famous elsewhere was Joe Scarpa. As a babyface, Scarpa had a very strong comeback after selling for a heel. Joe used the sleeper hold for a finisher and had a very strong sense of psychology. June through September of 1967 was the time he was in the territory.
Joe's list of opponents included Brute Bernard, the Destroyer, Danny Plechas, Mike Paidousis, Killer Karl Kox, the Spoiler, and Krusher Karlssen. Billy Red Lyons was his frequent tag team partner.
I saw Scarpa wrestle on 7-8-67 at the Turnpike Stadium show that featured Fritz Von Erich vs Gene Kiniski. Joe teamed with Joe Blanchard and Waldo Von Erich against Buddy Austin, Brute Bernard and Killer Karl Kox. Scarpa, Blanchard, and Von Erich won the match, two falls to one.
Joe left Texas to become famous as Chief Jay Strongbow in the WWF. After retirement, he became a ring agent for the WWF.