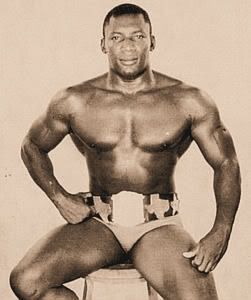 One of the best African-American wrestlers to come through the Dallas territory in the 1960s was Dory Dixon. He was very quick and athletic and had good babyface psychology. Dory had very good comebacks after selling for the heel. His finisher was a flying body press. Many times he would jump over the ropes from the ring apron to pin an opponent.
Dory did not have any major programs but wrestled every mid-card heel in the territory. The Mummy, Jimmy Valentine, Indian Joe, Roger Kirby, Blackjack Daniels, Louie Tillet, and the Zebra Kid were among the people he wrestled at that time. He teamed with Bull Curry, Ox Baker, and Nick Kozak. He won the Texas Tag Team Titles with Kozak by defeating Louie Tillet and the Zebra Kid in a tournament. Dory also held the Texas Heavyweight Championship in 1962.
I saw Dory in person on 5-30-66 in Fort Worth. He teamed with Bull Curry to wrestle the Mummy and Roger Kirby. Dory won the first fall with the flying body press on the Mummy. Kirby pinned Dory for the second fall and Curry pinned the Mummy for the third fall.
Dory resides in Mexico now. I read in the Wrestling Observer about four years ago that Dory wrestled on occasion. That would make him in his late 60s at that time. He really must be in good shape.