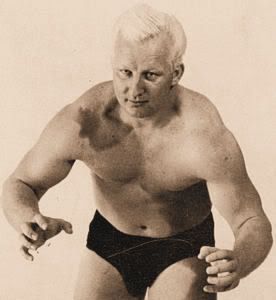 At the start of his career, Roger Kirby came through the Dallas Territory in 1966. Kirby imitated Buddy Rogers using the same style and mannerisms. He was one of the better mid-card heels at that time using the backbreaker over the knee as a finisher.
Kirby feuded with Bull and Fred Curry, Zuma, Dory Dixon, Ox Baker, and Billy Red Lyons. He teamed with Louie Tillet and Blackjack Daniels to take on several combinations of babyfaces.
I saw Kirby wrestle in person on 5-30-66 in Fort Worth. He and the Mummy took on Dory Dixon and Bull Curry. Dixon pinned the Mummy for the first fall and Kirby pinned Dixon after a backbreaker to win the second fall. In the third fall, Dixon was attempting a cover on Kirby. The Mummy ran in to make the save but kicked Roger instead after Dixon moved. After the same thing happened again, Mummy ran back to the ring apron. By this time, Roger was pretty ticked off. He grabbed the top rope, jerked Mummy back in, and went back to the dressing room. Mummy was then pinned to end the match. I thought there would be a feud between Roger and the Mummy but it never materialized. I guess Mummy thought he screwed up and got what he deserved.
Kirby went on to work several territories including Portland, Kansas City, WWA, Florida, and Mobile. He was very colorful and successful.