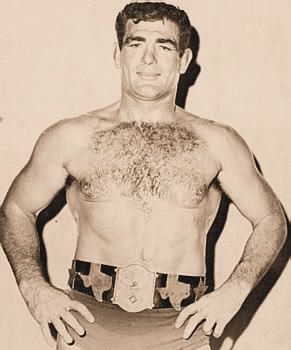 One of the most influential people in Texas wrestling history was Joe Blanchard. As a worker, he made a great babyface with his selling and fiery comebacks. He also made a great heel. His finisher was the abdominal stretch. This is a hold that is not seen anymore.
On August 29, 1966, Joe came on the scene during a match featuring Fritz and Waldo Von Erich against Ricky Romero and Benny Matta. Romero had been knocked out and Fritz was holding Matta down while Waldo kept jumping on him from the top rope. Joe Blanchard, dressed in a suit, entered the ring and knocked Waldo off the top rope. He then pummeled Fritz for a while and this resulted in Fritz being carried off on a stretcher. Blanchard's suit was torn up badly during the brawl.
Joe defeated several heels leading up to a match with Fritz for the championship of Texas. Waldo, Bob Geigel and The Golden Terror were included on that list of heels. The title match took place on 11-21-66 in Fort Worth. The final fall was on TV. Fritz won the first fall and Joe won the second with the abdominal stretch. In the third fall, Fritz was pinned with a rolling cradle after being distracted by Duke Keomuka. This is the only time I saw Fritz lose a deciding fall by being pinned working as a heel. The match is on YouTube and there were several positive comments about it. The crowd heat was much better then than it is now. Fritz won the title back on 1-16-67.
On 8-3-68, Joe was the special referee in a Texas Death Match between Fritz and Gene Kiniski for the NWA Title. Joe caused Fritz to lose the match thus turning heel. They had a series of singles and tag team matches after this.
Joe went on to promote wrestling in San Antonio. He broke away from the Dallas booking office in 1977 and formed Southwest Championship Wrestling. Tully, Joe's son, became a star there and went on to be one of the top wrestlers in the '70s, '80s and '90s. Joe was one of the first to have a wrestling program on national television. He is retired and living in San Antonio today.