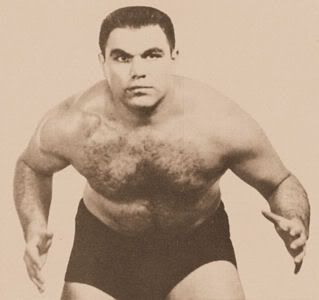 One of the veteran heel wrestlers that came through the Dallas territory in the sixties was Mike Paidousis. He worked with many of the young wrestlers during his year stay in the territory. This made me think that he was here to teach them how to have a match. Mike was very good on psychology and always motioned for the people to stand up with respect when he was introduced. It goes without saying that they booed him louder.
Mike was manager of Brute Bernard during this time period. As a manager, Mike was not good on interviews like Gary Hart, Jim Cornette, and Bobby Heenan. He would occasionally interfere and distract in a match but that was about it. Their main feud was with Fritz and Waldo Von Erich for the American tag title. Brute and Mike also worked with Gary Hart and the Spoiler in matches between the two top heel teams.
I saw Paidousis wrestle twice in person. He defeated Paul DeMarco on the card at Turnpike Stadium that featured Fritz Von Erich vs Gene Kiniski. He lost to Ernie Ladd in Fort Worth on 2-12-67. This was one of his last matches in the territory.
Mike passed away in 2002 at the age of 78.