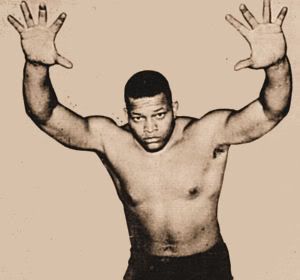 Ernie Ladd, one of the biggest stars in wrestling history, came through the Dallas territory on occasion in the mid to late 1960s. He usually was in the territory during the football offseason. Ladd was a special attraction because of his size and athletic ability.
Ladd was involved in feuds with Fritz Von Erich, Killer Karl Kox, The Spoilers, and Chris Markoff. Bull Curry and Cowboy Bob Ellis were Ladd's main tag partners in the mid-'60s against Von Erich and Kox. In 1964, Ernie won the Texas championship in Houston from Fritz but lost it back in a short time. The title switch was not acknowledged in the Dallas-Fort Worth area.
I saw Ladd wrestle Mike Paidousis in Fort Worth on 2/12/68. For a finisher, Ladd would throw his opponent into the ropes. The person would then bounce back and run into Ladd's foot. The big splash from Ladd would end the match. Also on that same card, Ladd was a finalist in a battle royal. Chris Markoff eliminated Ladd to win the match.
Ernie went on to be a big star and booker in other territories. He did not have a big run in Texas after the '60s.