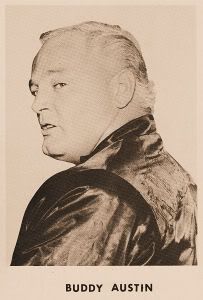 One of the heels that I remember getting a lot of heat coming through the Dallas territory was "Killer" Buddy Austin. He debuted in March of 1967 and stayed through August. His heat was generated by putting people out of commission using the piledriver. Austin would use three piledrivers at first to end the match with one of them being on the floor or the time keeper's table. One piledriver was enough for a finisher after he was established.
Austin had feuds with babyfaces Bearcat Wright, Waldo and Fritz Von Erich, Billy Red Lyons, Duke Keomuka, and Paul DeMarco. He also had "heel vs heel" matches with Kinji Shibuya, Brute Bernard, Mike Paidousis, and Killer Karl Kox. Austin won the Texas title from Paul DeMarco in a tournament. This was after Fritz Von Erich vacated the Texas title after winning the American title.
I saw Austin wrestle on the Turnpike Stadium program where he teamed with Brute Bernard and Killer Karl Kox against Joe Blanchard, Joe Scarpa, and Waldo Von Erich. This was on 7-8-67. Austin pinned Blanchard after giving him a piledriver for the first fall and Blanchard used a flying body press to pin Austin for the second fall. Scarpa pinned Kox for the third fall after Austin punched Kox by mistake.
Here is another interesting note on that match. The card took place on a Saturday night. Mike Paidousis, Brute Bernard's manager, was in the corner of the heel team. Boyd Pierce, the PA announcer, gave the main event for Fort Worth on Monday night as Mike Paidousis vs Buddy Austin. One would think, why are they not fighting when they are going to be in the main event two nights later? I guess that was a slipup that got by the promoter.
Austin went to wrestle in California, Hawaii, and other places after he left Texas.