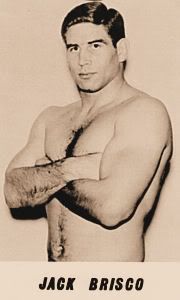 One of the up and coming wrestlers that passed through the Dallas territory in 1967 was Jack Brisco. He was different from others that came through because he was a wrestler, not a character. He wrestled underneath for most of his matches. I saw him wrestle Dory Funk Jr. on July 8, 1967 in the opening match of the Turnpike Stadium card headlined by Fritz Von Erich vs. Gene Kiniski. Dory and Jack's match was a classic scientific match by two future NWA champions.
Jack's best feud was with Killer Karl Kox. I found out in recent years that Kox was really good about helping teach young wrestlers. Jack gave Karl credit for helping his career. The following excerpt is from Karl's interview with
Whatever Happened to...?
in response to Jack's statement.
Yes, I did. He hadn't been out of college too long. I knew the guy had a lot of ability, but at the time, he was just doing jobs. I said to Fritz, "Let me have him in Fort Worth and work a program with him." The people watching TV see somebody they don't know working with a guy that's on top, they think it's just another job guy, you know. I put him over on TV and the people went crazy. We worked a program and every time, I just about beat him, but never did.
Jack went on to have great success in several other territories. The NWA championship became his in 1974.
Jack Brisco passed away on February 1, 2010 at the age of 68. The wrestling business lost one of its best performers.
[NOTE FROM ISE GUY: Having been ill for most of last week, I was unfortunately unable to research and write a proper tribute to Jack Brisco in a timely manner following his passing, for which I sincerely apologize. We join Gary Gibson and the entire pro wrestling industry in mourning the loss of not only one of the sport's greatest champions but, by all accounts, one of the greatest human beings ever to be a part of it.]