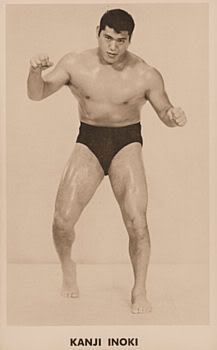 One of the up and coming stars in the Dallas territory in 1965 was Kanji Inoki. He was bigger than most Japanese wrestlers and very quick.
Inoki worked underneath for most of his five month stay. He did team with Duke Keomuka to win the Dallas version of the World Tag Team Titles from Fritz Von Erich and Killer Karl Kox. Inoki and Keomuka would later lose the titles to the Destroyer and the Golden Terror.
Inoki's finisher was a claw hold applied to the underarm area of his opponent. He would soften up his victim with a series of open-handed chops to that region and then apply the claw. I have not seen this hold used as a submission hold since.
I saw Inoki wrestle K.O. Ken Yates on July 19, 1965 in Fort Worth. Yates' gimmick was that he was an ex-boxer. He should have stayed in boxing because I never did see him win a wrestling match. Kanji did win the match that night with the claw hold. If you look at the results section of that night on this website, you will see that I have his autograph on page four of the program.
Inoki changed his first name to Antonio and became a worldwide star and owner of New Japan Pro Wrestling. He will be inducted into the WWE Hall of Fame this year.