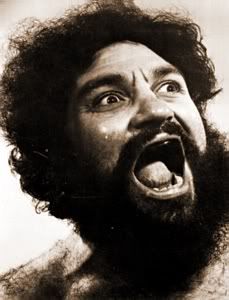 One of the strange characters in the Dallas territory during the mid '60s was Ivan the Terrible. He had long hair, a beard, and hair all over his body. He was the typical heel that would hide weapons in his trunks. Even though he was really from Argentina, Ivan made a believable character with the name of a Russian Czar.
The biggest trademark that Ivan had was his deep, booming voice. You could hear it all over the arena when he was denying his dirty deeds. I remember one match that Ivan took offense over accusations made by referee Marvin Jones. Ivan went up and yelled
"oooooohhhhh yyyyeaaaahhhh"
in Marvin's ear. I'm sure Marvin's ears would have rung for the rest of the night if he had not put in earplugs before the match. This is another example of sports entertainment at its best.
Ivan used the "oh yeah" phrase about twenty years before Randy Savage made it famous while working for the WWF. Randy was much more kind to the referee"s eardrums than Ivan.
Ivan wrestled successfully as Pampero Firpo another twenty plus years. He had feuds with the Sheik and other top stars.