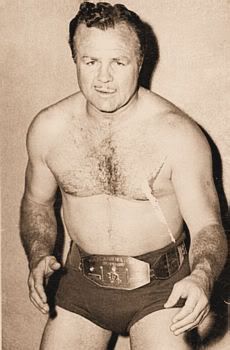 One of the old time wrestlers passing through the Dallas territory in the mid-'60s was "Dangerous" Danny McShain. Starting in 1933, he became one of the most famous junior heavyweights. Danny was one of the original cocky, charismatic heels that did strong interviews. Good psychology was also one of his strong points.
Bull Curry and Danny had a long standing feud that lasted from the '50s to the mid-'60s all over Texas. There were several types of matches, one of which stipulated that the loser would be painted green on a St. Patrick's Day card in Houston.
Lou Thesz talks about McShain popularizing blading in his book,
Hooker
:
"If I had to point a finger, I'd say that the guy who started it was Danny McShain, a junior-heavyweight performer who was bleeding in most of his matches during the World War II era."
I saw McShain wrestle in Fort Worth on 5-30-66 against Argentina Zuma. Danny was disqualified when he dropped his foreign object and Referee Marvin Jones picked it up and immediately called for the bell. Usually McShain was good at hiding his foreign objects but not this night.
Fred Hornsby's book
A Record of Danny McShain
states that Danny wrestled 14 more matches after that one. His final match was against Gary Hart. After that, he was a referee in Houston for several more years. Danny was enjoyable and entertaining to watch.