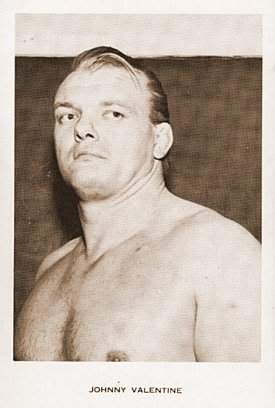 One of Fritz Von Erich's biggest feuds in the late '60s through the early '70s was with Johnny Valentine. Both participants really laid in the punches and kicks to make the matches believable.
The American Heavyweight Title went back and forth between Johnny and Fritz during this time. Texas Death and cage matches were added to the mix. Also, tag team matches were part of the program. Fritz's partners included Wahoo McDaniel, Jose Lothario, and Fred Curry. Johnny would team with Baron Von Raschke, Dusty Rhodes, and Joe Blanchard.
One of my biggest memories from the feud was Fritz and Johnny having workout matches on Dallas TV. The opponents were determined by crowd applause. Fritz faced the Stomper and Johnny wrestled Gary Hart. Hart did an excellent job in working the crowd to make sure that Valentine was his opponent. The crowd loved it when Johnny beat up Hart.
The feud ended with Fritz regaining the American title. Johnny stayed in Texas and had programs with Killer Karl Kox, Wahoo McDaniel, Killer Kowalski, and others.