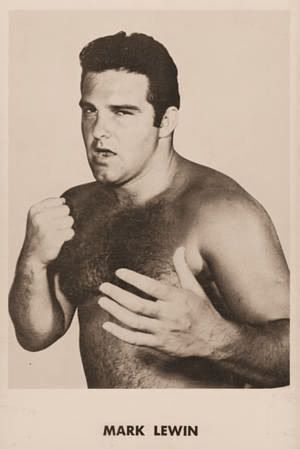 Mark Lewin was one of the best heels in the Dallas-Fort Worth market during the sixties. He arrived in June of 1965 and was managed by his real life brother-in-law, Danny McShain. Lewin had feuds against both baby faces and heels which included Bull Curry, Cowboy Bob Ellis, Killer Karl Kox, and the Destroyer.
The feud with Killer Karl Kox sticks out in my mind the most. Lewin and Kox were partners against Bull Curry and Ernie Ladd in Fort Worth. Danny McShain was talking to Lewin for a long time outside of the ring while Kox was inside getting a beating. Kox took exception to that and challenged McShain to a match. During the match, Kox used the brainbuster which was barred in Texas at the time. McShain won the match by DQ but the decision was reversed when Lewin hit Kox in the ear with the timekeeper's hammer. In an interview with Paul Boesch, Kox wanted the camera to get a close-up of his ear. Boesch refused and I was glad because the ear was quite bloody.
This led to a match between Kox and Lewin on July 19, 1965 in Fort Worth. This was my 11th birthday and was the first show that I saw in person. It was an exciting match that ended in a double DQ in the third fall. You can see the program in the
Results
section by looking up the date of the match.
Lewin came back in the late '70s to battle the Von Erich boys. He was of the most successful wrestlers of all time.