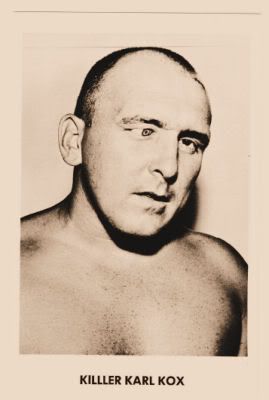 One of my all time favorite heels was Killer Karl Kox. He displayed tremendous psychology and was very believable. Even though he put a lot of people over, he was not diminished in the eyes of the fans. He did not yell on his interviews but he got his point across.
The wrestlers he had feuds with included Fritz Von Erich, Bull Curry, Billy Red Lyons, Mark Lewin, Jack Brisco, Wahoo McDaniel, Tony Borne, and Cowboy Bob Ellis. Kox would feud with heels as well as babyfaces.
He was in the main event of the first show that I saw in person. It was on July 19, 1965 against Mark Lewin. The match was scheduled for two out of three falls with a 90 minute time limit. Like I stated in an earlier column, I never knew of a main event that went the full ninety minutes. The match ended in a double DQ in the third fall. The heel vs heel matches always interested me.
I got a chance to meet Kox at a wrestling convention in Arlington in 2003. He is a very nice person, but when I was a kid, I was scared to death of him. I was still sort of a mark before I approached him. He told me that he would rather be a heel than a babyface and he is not a fan of wrestling today. Kox also said that he was going to be partners with Fritz Von Erich in the Dallas territory but the deal fell through.
Mrs. Kox was selling memorabilia at the convention and she was very nice. I bought a videotape of some of his matches and it was titled
The Best of Killer Karl Kox
. It had probably the only matches that could be found since there aren't many wrestling tapes from the '70s and earlier.
Killer Tim Brooks and Skandar Akbar were also there and were very nice.
I miss the believable heels. It is too bad that there are not any in wrestling today.