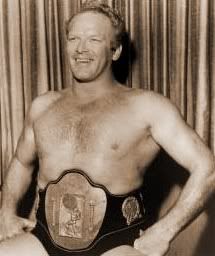 Billy Red Lyons provided Fritz Von Erich with a very good feud in 1965-66. Lyons was from Canada and had a very good babyface interview. He used the sleeper and the figure four leg lock as his finishing holds.
Lyons did some promos on Fritz that aired on Dallas TV from the Sportatorium. Fritz went to the ring and challenged Lyons to an impromptu match. Lyons won the match in about three minutes with Fritz doing a rare job. This led to a series of matches in Fort Worth and Dallas in which Fritz won or the matches would end with no decisions.
One of the more interesting angles was Fritz and Lyons doing handicap matches on Dallas TV the week before a big match. Fritz defeated Ramon Torres and Pedro Morales in short order with Morales never being able to tag in. Lyons defeated the Destroyer and the Golden Terror by DQ. This was a better match in which Destroyer said he would unmask if Lyons beat him even though it was a one fall match. The Golden Terror was not allowed to tag in by the order of the Destroyer. Lyons had the Destroyer pinned and we thought the mask was going off. At the count of two, the Golden Terror stomped referee Marvin Jones in the back and was therefore disqualified.
Lyons went on to do color commentary on Fort Worth TV. He was doing commentary on WWF TV in the early nineties the last time I saw him.